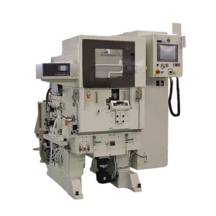 Surface grinding is the most common type of grinding process. It is a fixture in heavy industry where various kinds of metal and non-metal objects need to be refined and smoothed for a finishing process. This is most often seen in the automotive industry. A surface grinder consists of a table, above which is held the abrasive wheel. A device called a chuck holds in place the item being worked on, referred to as a workpiece. Chucks can be magnetic, vacuum, or mechanical, depending on the workpiece composition.
There are three basic types of surface grinders: horizontal-spindle, vertical-spindle, single disc grinders and double-disc grinders. Each machine is best suited to certain items. The essential difference is in how the grinding wheel makes contact with the workpiece.
Horizontal-spindle grinders, also called peripheral grinders, work best for high-precision work, such as angled or tapered surfaces and slots or recessed surfaces. The flat edge of the wheel -the periphery- makes contact with the piece. Pins, pistons, connecting rods, and bearing races are examples of components ground using this type of machine.
Vertical-spindle grinders, or wheel-face grinders, are typically used for fast material removal. The face of the grinding wheel is lowered onto the workpiece below it. Vertical-spindle grinders work best for stators, wafers, rotors, gears, inner rings and inner plates, and stops and spacers.
Single-disc grinders and double-disc grinders appear as both horizontal-spindle and vertical-spindle styles. Disc grinders have a larger contact area between the grinding surface and the workpiece, and can grind both sides at once. Some rotors, plates, spacers, gears, and washers can be put into disc grinders.
Koyo Machinery USA offers three models: R Series vertical spindle/rotary table grinders, HD Series horizontal spindle type double disc grinders, and KVD Series vertical spindle type double disc grinders. Each series can be adapted with several feed styles to accommodate all types of production. Koyo Machinery USA is a world leader in the development and manufacture of custom centerless, surface, and specialty grinders. Contact us today to find out what we can do for you!